Imagine a machine that continues to mow the growing grass, goes and fertilizes plants, creates a network of small canals and streams in the rivers to grow plants in the surrounding area and provide water to the animals. Does self tuning and lasts for 50 years. What would you call that engineer who made such a machine?The full name is hippopotamus which is derived from the Greek word meaning River-Horse. It is an animal that lives in the grasslands of Africa, living in rivers, streams, canals, lakes and ponds. The highest numbers are in Zambia (40,000) and Tanzania (20,000). They live only in Africa and are not found on any other continent.
Hippo's Mysterious Physic:
Hippo can weigh 3306 lb to 9920 lb! (1500 to 4500 kg) Females weigh a few hundred pounds less than males. This heavy weight keeps them standing in the water under strong waves. They do not swim but make long jumps in the water. Their heavier bodies also help them build canals in the river. Despite their weight, they run faster than humans.Their body is specifically made to live in water. They can't stay on land for long. Their skin dries out and starts cracking. Their bodies emit a red substance that was previously thought to be blood, but it is actually a natural sun screen lotion that spreads over their body to protect them from the sun and acts as a disinfectant.His nose, eyes and ears are aligned. When it is standing in deep water, it only keeps this part out so that it can breathe and the skin may not damaged by the sun. Underwater, it closes its nostrils and ears. The eye has an extra protective membrane that enables it to see through water.
Hippo has 38 to 44 teeth in its mouth. The front straight teeth are used to break something by applying pressure to it, while the teeth like long horns (canine) are used for protection and to tear an object. There are chewing teeth on the back of the mouth, breaking the grass with the lips and grinding them with chewing teeth.
Because they live in the water all day and the extreme heat of Africa outside is extremely dangerous for their skin. So they go out at night to graze(nocturnal). Behind the retina of their eyes is a layer called TapeTum Lucidum. It reflects more light so they can see at night. It is the layer that makes the eyes of dogs, cats, etc shining at night.
Buy hippo t shirts and support us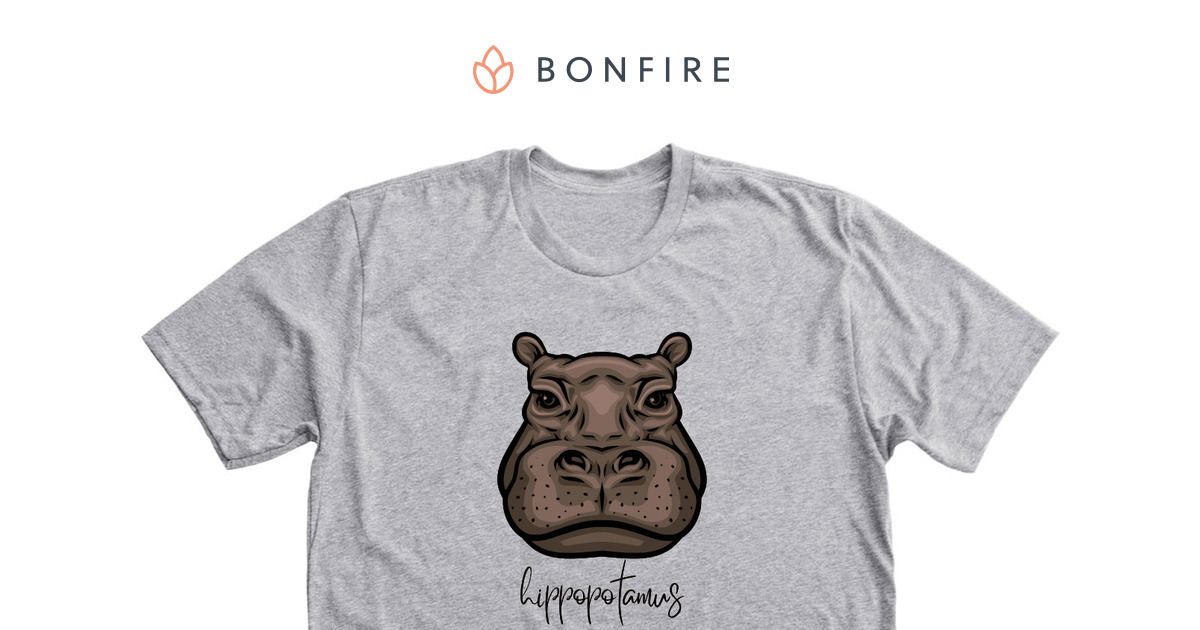 Hippo Tee | Bonfire
Grab your limited edition Hippo Tee merchandise before the campaign closes. Featuring Dark Heather Grey Premium Unisex Tees, professionally printed in the USA.
www.bonfire.com
Hippo as a threat:
Extremely wild, narrow-minded, dangerous and angry animal.There are lions, leopards, elephants, rhinos and crocodiles in Africa. But most human beings are killed by this animal. It is estimated that between 500 to 1,000 people die each year in Africa, more than any other animal (except mosquitoes and snakes). villagers go to rivers for fishing where they get their hands on it. They can dive underwater for up to seven minutes and attack nearby boats when they feel threatened.No animal can mess with them because they are very aggressive, they live together and have long pointed canines which can be up to two feet long and they open their jaws from top to bottom and chew in one shot. Their jaw strength is recorded at 1800 Psi which is enough to split a ten foot crocodile in two.
Hippo breeding period:
Being wild animals, the male hippos fight a fierce battle with their mouths open to obtain the female. The one with more open jaws heavy weight gets all the females and the rest of the males become obedient. It is also known that male hippos, like lions, often kill newborns (infanticide). Some experts say that it only kills male babies so that they do not grow up and chase females. Female gives birth to a baby in two years and the baby can be born either underwater or out of the water.
Hippo VS other animals
Rhino VS Hippo: The one who comes in front of the mouth will lose because the horn of the rhinoceros are very strong and deadly thing but if it rhino comes in front of the hippo then the life is in danger.
Lion VS Hippo: Lions usually attack together. Lions rarely hunt hippos. So far, there is only one case in which Hippo cut the lower jaw off of a lion in one shot.
Crocodile VS Hippo: Crocodile does not compete at all and runs away. On the contrary, many times hippo has been seen killing crocodiles if they come in its area.
Elephant VS Hippo:
They are rarely encountered and the lone hippo will run away because the front teeth of the elephant are as sharp as a spear. But many hippos together can drive it away. Hypo as eco-friendly. Of course, There is nothing wrong with the factory of nature. The life of all other animals in Africa also depends to some extent on this animal. Such that It moves like a bulldozer in the rivers and makes long canals and small canals which grow greenery and grass in the surrounding areas. From where the animals eat and drink and thus increase their breed from which the rest of the beasts like lions etc also get the meal.
If hippo attacks:
If you ever come face to face with Hippo, the first thing Hippo will do is to stand on his side and show his stature and scare you. It is also a strong warning to stay away. Since it is an extremely unpredictable animal, you cant really tell what is it going to do next. Remember that it can run faster than a human at a speed of 28 miles per hour (45 kmph). If you are in the water, run in the opposite direction, if you are on the ground, run like a zigzag, hiding behind the bushes on one side. Hippos do not usually travel 5 km away from the water. I hope this way you can save your life.
Hippos dont have any real predators except humans who hunt it for its flesh and front teeth. However, the female which is slightly lighter and the offspring of the hippo occasionally fall prey to the lion, the wild dog, the hyena.
The average age of these Natural Eco Engineers is recorded at 50 years.
Buy hippo t shirts and support us